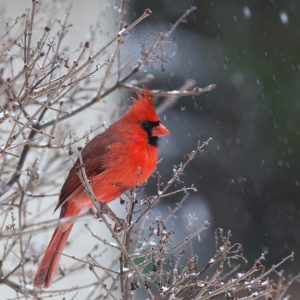 Learning at university involves lots more than going to classes! There are assignments, tests to prepare for, tons of challenging reading... Don't worry, you are not alone! Stay on top of all your academic work  with the help of Learning Skills Services!
Learning Skills Services are here to help you achieve your academic goals, so always remember to  include LSS as an ongoing component of your academic success strategy. Need help getting assignments done on time? Preparing for all those tests and exams? Managing your time? Figuring how how you can learn best? We're here for you, at LSS! Here is our April workshop calendar: APRIL 2018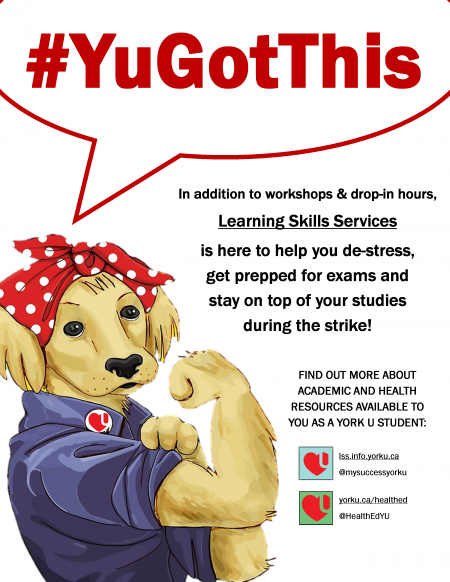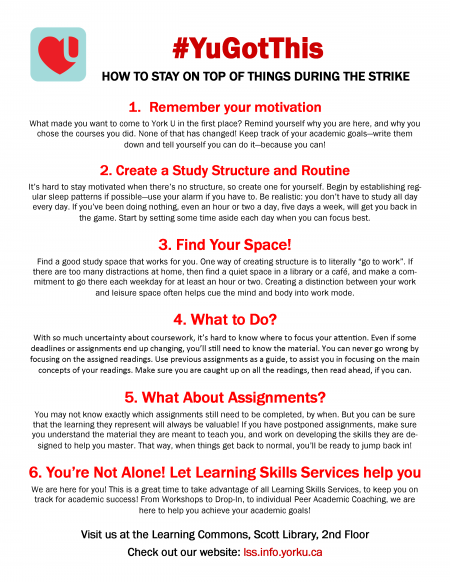 What are Learning Skills Services?
Learning Skills Services (LSS) are about "learning how to learn" and improving student effectiveness and efficiency at learning, studying and completing tests and assignments. Looking for ways to better achieve your academic goals? Wondering how to keep up with course readings and assignments? Hoping to find strategies to manage your time more effectively, stay on top of your studies, prevent problems later on in the term, and get the most out of your university experience? Learning Skills Services can help!
Open to all current York University students, LSS can help you take charge of your own learning, build your academic skill set and confidence, and foster a deeper sense of engagement with your studies. No matter what your program of study or level of academic success, from first year right through graduate studies, LSS is for you! Learning Skills Services include Workshops, Drop-In, and One-to-One sessions.
What Services Are Offered at LSS?
Workshops
During the Fall and Winter terms, LSS  offers a full range of Learning Skills Workshop topics designed to promote academic success, from Time Management and Reading & Note-Taking, all the way to Exam Prep.  Advance registration is not necessary but LSS workshops are popular and fill up quickly on a first-come, first-served basis, especially at the beginning of term, so be sure to arrive early for a good seat! Download your own copy of this month's Workshop Calendar here:  APRIL 2018
If you attend 8 or more different Learning Skills Workshops at any point during your time at York, you can also earn your Passport to Success certificate - a valuable addition to your portfolio and Co-Curricular Record at York.
Peer Academic Coaching
Are you looking for individual support to help you achieve your academic goals? If so, Peer Academic Coaching might be just what you need! Meet with one of our awesome Learning Skills Peers for a 30-minute session to discuss learning skills-related strategies designed to support your academic success. From how to develop and stick to a realistic time management plan to how to tackle your readings, upcoming papers and exams, Learning Skills Services can help you become a more prepared, confident, and well-rounded student.
Our Peer Academic Coaching hours until April 4th, 2018 will be:
Tuesday 1:30-3:00 pm
Wednesdays, 10:30 am-12:00 pm
Please note that all Peer Academic Coaching sessions are available by appointment only. For step by step instructions on how to make an appointment, visit How to Book An Individual Learning Skills Appointment
Drop-In
Do you have a quick learning skills issue or study-related question to discuss with a Learning Skills Peer?  As a Learning Commons partner, LSS offers Drop-In services at the Learning Skills Pod, Scott Library, for short (10-15 minutes or less) first-come, first-served consultations.
Our Winter Term Drop-In hours until April 4th, 2018, will be:
Tuesdays from 11:00-1:00
Wednesdays from 12:30 - 2:30
In addition to the LSS workshops, York students (undergraduate and graduate) may also sign up for a limited number of individual sessions with a Learning Skills Specialist, to develop and implement personalized strategies for better achieving academic goals. Before booking an individual session, students must attend at least one workshop, and visit Drop-In or Peer Academic Coaching.  Information about how to book an individual appointment can be found here: How To Book An Individual Learning Skills Appointment
Please be aware that sessions with a Learning Skills Specialist are limited, so if our booking system does not show any white spaces to book, that means our schedules are full for the week. You will need to check again the following Monday morning for that week's availability. In the meantime, feel free to visit Drop-In, sign up for an Academic Peer Coaching spot, if available, come to one of our Workshops, and/or check out our online information and resources, under Academic Success Resources, above.
Other Services
At LSS, we welcome opportunities to consult with Faculty, Course Instructors or T.A.'s, staff or student groups about Learning Skills. On a limited first-come, first-served basis, we can send a Learning Skills Specialist to individual classes or other campus events to provide sessions on academic skills. For more information, contact us at 416-736-5144.
All LSS Website, Workshop and Print Materials created by Learning Skills Services, York University are licensed under a Creative Commons Attribution-NonCommercial 4.0 International License.