Due to the coronovirus, all in-person Learning Skills workshops and events are cancelled until further notice. However, we are still here to help you finish the winter term, with resources, strategies and information on how to study effectively during COVID-19.
From March 16th - April 3rd, 2020 (last day of classes), you can book a virtual Peer Academic Coaching appointment to get study tips and support from a Learning Skills Peer.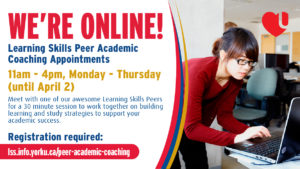 For tips, study strategies, worksheets and other resources online, please alsovisit our Resources for Success section.
These are challenging times, but together we'll get through them. You are not alone.  All of us at Learning Skills and across the university are continuing to work remotely to help you finish the term.  Remember to practice social distancing, reach out virtually to stay connected, take good care of yourselves, be kind, and keep on learning!
What Are Learning Skills Services?
Looking for ways to manage your time, study and learn more effectively, keep up with readings and course work, and get the most out of your studies? Let Learning Skills Services (LSS) help you achieve your academic goals!
Learning Skills Services include Workshops, Drop-In, and individual Peer Academic Coaching (by appointment only). 
Open to all current YorkU students, undergraduate and graduate, LSS is here to help you take charge of your own learning, build your academic skills and confidence, and foster deeper engagement with your studies. No matter what your program or level of academic success, from first year right through to graduate studies, LSS is here for you!
All LSS Website, Workshop and Print Materials created by Learning Skills Services, York University are licensed under a Creative Commons Attribution-NonCommercial 4.0 International License.