Learning Skills Services offers a range of Learning Skills Workshop topics designed to promote academic success, from Time Management and Reading & Note-Taking, all the way to Exam Prep, depending on the time of year. All LSS workshops are designed to help you build the key academic and organizational skills needed for academic success, as well as to increase self- awareness about your own learning.
To see times and locations of upcoming workshops, click on this month's Workshop Calendar page. Advance registration is not necessary but LSS workshops are popular and fill up quickly on a first-come, first-served basis, especially at the beginning of term, so be sure to arrive early for a good seat!
Attend 8 or more different Learning Skills Workshops at any point during your time at York, to earn your Passport to Success certificate - a valuable addition to your portfolio and Co-Curricular Record at York.
Please note :  All LSS Workshop and Print Materials created by Learning Skills Services, York University are licensed under a Creative Commons Attribution-NonCommercial 4.0 International License.
Current Workshop Topics

 Boost Your Learning Power (previously called Learning Styles)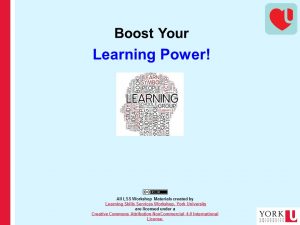 Looking for ways to become a better student and boost your learning power? This workshop (previously called Learning Styles) will help you "learn how to learn", set goals, discover your own learning preferences, and introduce you to the top, research-supported learning strategies.
Critical Thinking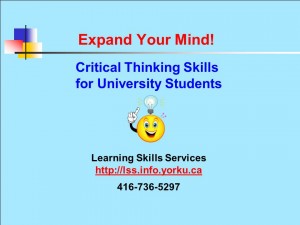 At university, learning involves much more than just memorizing facts and figures. This workshop will assist you in pushing beyond purely descriptive levels by examining deeper levels of understanding, analysis, critical thinking and evaluation
Exam Prep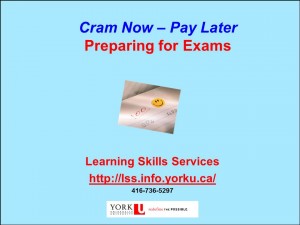 Multiple choice, short answer, calculations, or essay style – which form is your personal nemesis? Whatever the format, midterms or finals, if you could use some help in preparing for exams, then this workshop is for you!
Managing Academic Stress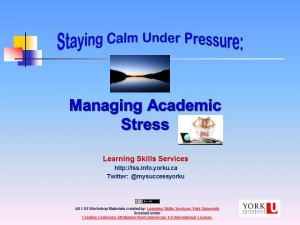 Are you feeling overwhelmed by the work load, struggling  to get good grades, or looking for better ways to handle the daily grind?  Learn strategies for handling the anxieties and stresses of university life.
Math&Science Problem Solving Skills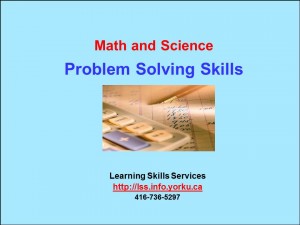 Why are problem solving courses so challenging?  To cope with the unique learning demands of such courses, you need special strategies to achieve academic success. Attend this workshop to find out more!
Memory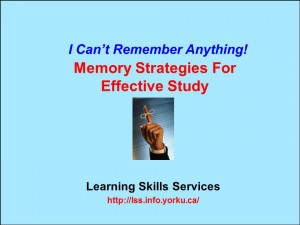 Most people only use a tiny fraction of their brain power.  Learn techniques to help you transfer all that course work information into your long term memory, along with the strategies you'll need to retrieve the information when you most need it.
Presentation Skills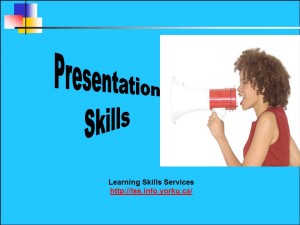 Does the thought of presenting in front of a group give you the jitters?  If so, you're not alone.  This workshop will provide you with essential tools that will allow you to effectively develop and deliver a presentation.
 Reading and Note-taking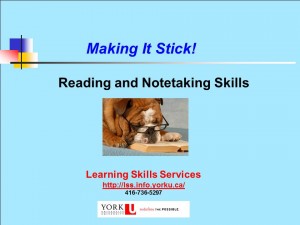 Many students find keeping up with the readings and lecture notes at university to be a real challenge. Learn more effective reading and note taking techniques to help you stay on top of your course work.
Secrets of Academic Success (previously called Study Secrets)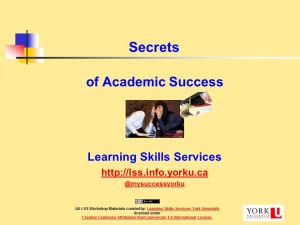 Looking for key strategies to improve your
academic achievement and confidence? Wondering
which learning skills you most need to succeed at
university? Take this workshop and find out
Starting Off Strong (1st Year Students ONLY)
New to YorkU? Searching  for the keys to academic success at university? Feeling a little overwhelmed by all the changes and challenges? This workshop is for you! Discover tools, tips and strategies to get you started on the right path to achieving  your academic goals!
Time Management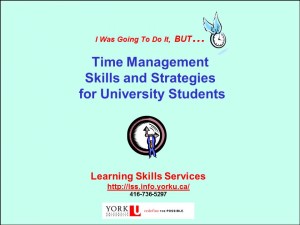 Where does the time go? Are you having trouble balancing school, work, and life? How much study time is enough? Learn practical, personalized approaches to managing your time that work for you.
Writing Tips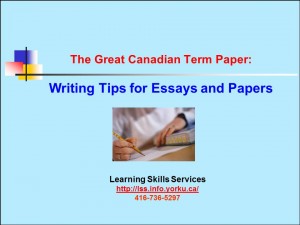 Term paper coming due? Essay to write? Academic writing can be a challenge. This workshop will help you plan, organize and fine-tune your writing, from picking a topic, right through to final proofreading.